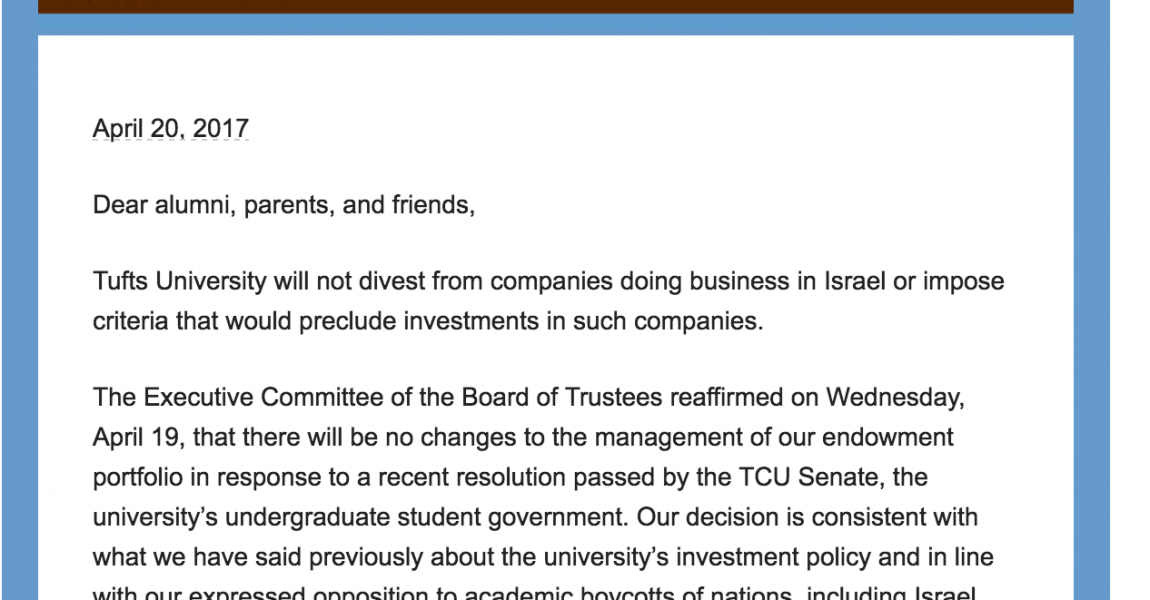 Tufts' Students for Justice in Palestine (SJP) used ambush tactics to push a BDS resolution through the Senate (the student government). Adopting the maneuvering of other SJP chapters, the Tufts group arranged for the vote to take place the day before a major Jewish holiday — Passover — to ensure that many Jewish students would not be able to participate in the resolution debate.
And the vote was "closed" so that the so-called student representatives were not accountable to their peers for their votes. Many students, their parents and alumni were outraged and distressed. They didn't just vent — they made their voices heard in letters, emails and calls to the administration and to faculty.
In response, the Tufts Board issued a statement unequivocally rejecting divestment from Israel, as well as academic boycotts, and declaring that debate and discussion must occur in an environment "free from discrimination."
Please read the Tufts Board's Statement. And please read the terrific op-ed by Tufts' Dean Solomont — "Is This Civic Engagement", which explains in detail why the tactics used by SJP are the very opposite of the type of civic engagement that our colleges should be promoting.
These statements show the power of speaking up!!!
https://tuftsdaily.com/opinion/2017/04/18/op-ed-civic-engagement/